kamapon
Oh yeah, I think I had the best weekend liekomg ever.
First,

studiokawaii
and

strasayu
came over, that means, lots of laughs, fun and Z series films.On thursday we had Chinese in a great (and extra cheap) restaurant, visited some fine art shops, drank matcha. We had my birthday party on Friday, played Rabbin Rabbids and had a great time =DD
Yesterday we gathered to cosplay the game
OSSU! Tatakae Ouendan
, a costume we've been preparing for around a year.

aviss
was the one in charge of make up and shooting us (with the camera, you see :P), and she's such a pro! I think this is the best cosplay I've ever done so far. I wanted to share these photos with you so...
First, lemme show you the designs for the game: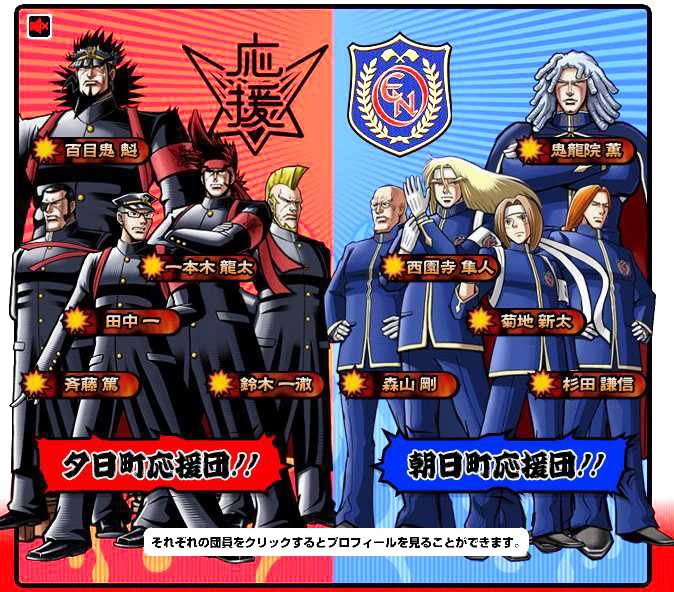 And now, photoshoot!!

panda_enorme
as Kai Doumeki. Yuuhimichi Ouen's Danchou (boss)
Cool Doumeki.
Damnit, he's the coolest danchou ever.
Me as Ippongi Ryuuta

strasayu
as Tanaka Hajime

panda_enorme
as Doumeki Kai
OSSU!!!
Oh hell yeah, I look so cool.
Ouendans after training....
Bored Ryuuta is bored
Scolding has never been so funXD
Yuuhimichi ouendan
Love is in the air.....
However...we're pals, actually
Ultra cool pose
Self appraisal time oh yeah, I'm so proud of this cosplay.

studiokawaii
cosplayed as Asahimichi Ouendans. Meru as Kikuchi Shinta and Ana as Saionji Hayato.
So ultraubercute
Rival leaders
Brotherly love :P
So divine
>o<
couldn't help it!!!!
And that's all folks. We made around 700 photos, and we're on it, working hard on every photo and soon we'll be updating new ones.